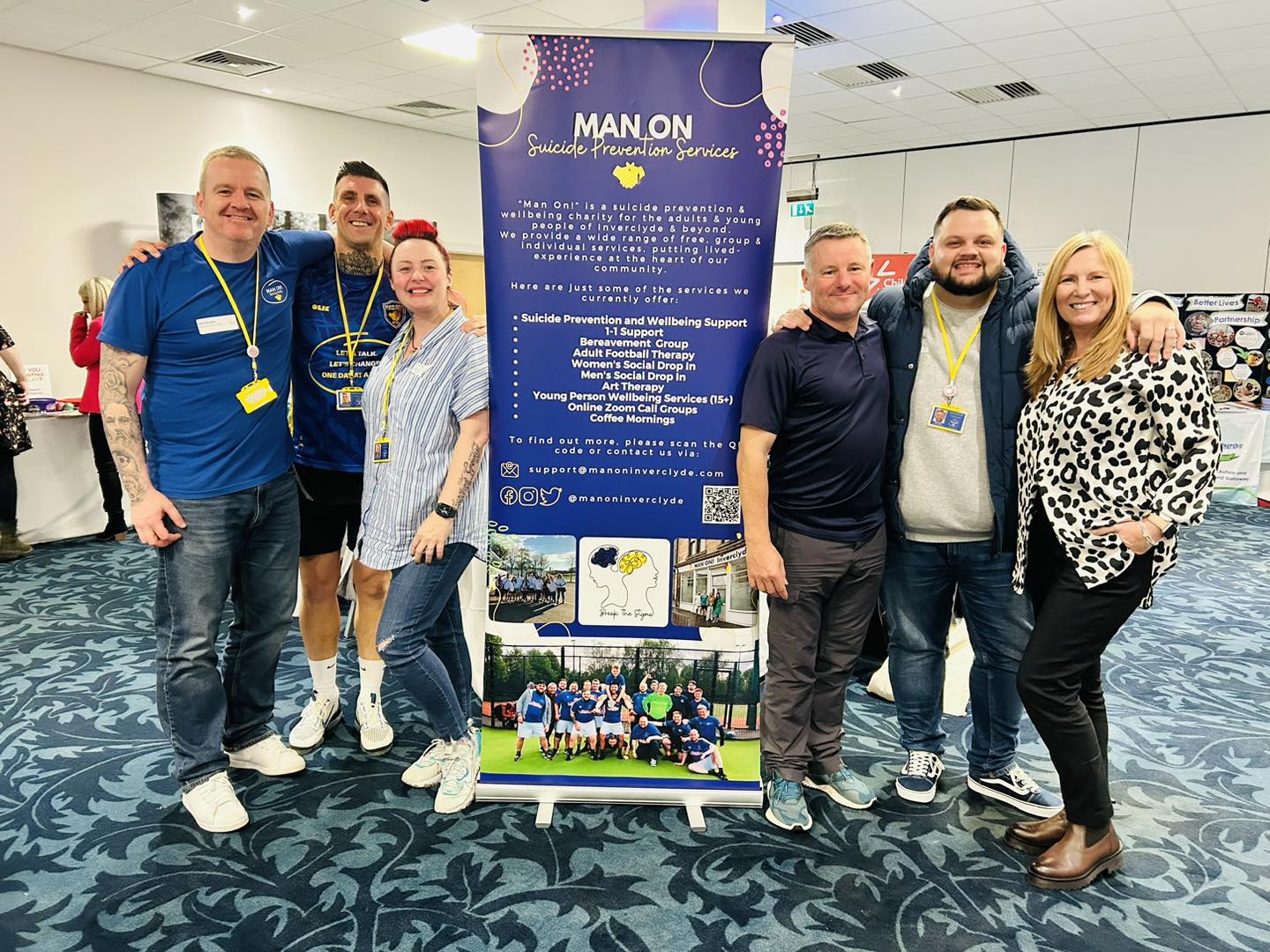 Mental Health Awareness Week is a time to reflect on the importance of mental health and well-being. It's an opportunity to raise awareness of the challenges faced by those struggling with mental health, and the support available to them. We want to take a moment to highlight the great work being done by Man On! Inverclyde to support individuals struggling with mental health issues or feeling suicidal.
Man On! Inverclyde is an award-winning mental health, wellbeing and suicide prevention charity based in Greenock, Inverclyde. When lockdown began due to covid, Chris Paul, the CEO and founder of Man On! Inverclyde saw an urgent need for suicide prevention support in his community. Witnessing close family members and friends battling with their own mental health struggles and thoughts of suicide, Chris decided to offer online zoom calls for those in need. The response was overwhelming and from there, Man On! Inverclyde grew to become an official charity in 2020, dedicated to providing critical support for those in crisis.
In response to several local suicides of young men in October 2022, the charity worked alongside bereaved family members and others in their community to work out what would have helped. This led to them developing their Community Crisis Support programme, offering immediate support to those who need it two days per week, without the need for an appointment or a waiting list.
For Community Crisis Support to grow and expand, Man On! needed staff in place to deliver the project within the community. In January 2023, they successfully applied to Bank of Scotland Foundation's Reach programme and were awarded £20,000 towards salary costs of their Wellbeing Worker, Volunteer Co-ordinator and CBT Therapist.
The Wellbeing Worker is the main source of support for those who need it most. Their Safe Plan interviews ensure that every member is heard and validated, while the Volunteer Co-ordinator has a brand new responsibility - recruiting Lived-Experience volunteers for the charity's innovative pilot Befriending Scheme. Social isolation and community exclusion have taken a toll on members, making activities like grabbing coffee or going for Walk and Talks all the more important.
The CBT Therapist provides clinical support to individuals who are at high risk of suicide. Through tailored sessions, this approach helps individuals manage their thoughts and emotions. The therapist sees up to three clients per week and offers sessions in blocks of four. This holistic care plan takes into account all aspects of their life and will provide comprehensive support for at least 100 people, connecting them with additional community resources.
Man On! Inverclyde is an inspiring example of a charity that is making a real difference in the lives of people who are struggling with mental health challenges. As we reflect on Mental Health Awareness Week, let us celebrate their work, and that of the many other charities and organisations who are working tirelessly to support those in need.
You can find out what Mental Health Awareness Week means to the charity in this short video
If you're in the Inverclyde area and feel you need their support, you can phone them on 01475 910258 or check out their website https://manoninverclyde.co.uk
MENTAL HEALTH AWARENESS WEEK 2023
Man On! Inverclyde - Turning negative experiences into positive outcomes